There are several Bangkok night markets with different kinds of products for sale and activities to do. These Top 6 Bangkok Night Market are definitely countless in number but there are some that have remained to be outstanding and favorites for most visitors in Bangkok. From these many markets in Bangkok, the following have been identified as The Top 6 Bangkok Night Markets in my opinion.
When you visit any of these 6 Bangkok Night Markets, be guaranteed to buy a lot of items at pocket friendly prices and meet thousands of people. These markets are always busy and strategically located making it easier for many people access them. You can get to any of the markets by use of different modes of transportation including bus, taxi, train, MRT, and boat.
1. Chatuchak Market Bangkok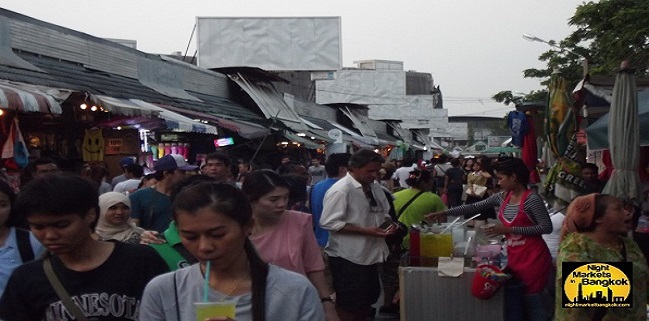 It is the biggest market in Thailand and is also known as J.J (JatuJak) market. Some say that JJ Market is one of the biggest and best Weekend Markets in the world. Some of the items that are found at Chatuchak are: household items, clothing, jewelry, handcrafts, decorations, books, arts, pets, foods, ceramics, etc.
It is divided into 27 sections with each section selling specific type of products. Chatuchak Market Bangkok is also surrounded by several hotels, restaurants, shopping centers, museums, parks and other attractions. This very Market was my first one to go to in Bangkok and spawned my addiction and love of everything related to the Street Markets in Bangkok.
JJ Green & Gypsy Market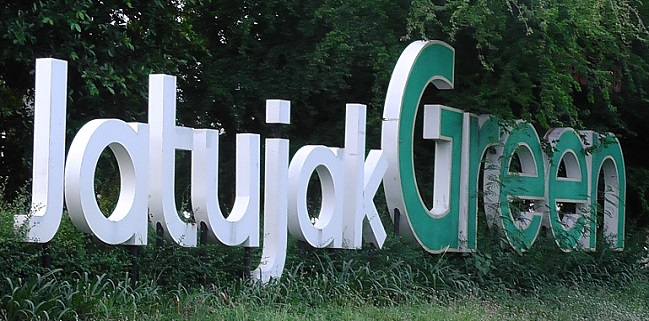 ]Another one of the main reasons I have decided to put this market as #1 on my list is that the newer Market JJ Green ( Which also houses Siam Gypsy Market ) is directly next to it down the sidewalk adjacent to to Chatuchak Park. JJ Green is the Night Market aspect and has lots of music, good food, and great shopping. The Gypsy Market is fantastic for unique and retro gifts to buy. So, if you visit Chatuchak Market on Saturday, then you have to make it over to JJ Green and Gypsy Market for the ultimate Bangkok Market Experience.
2. Talad Rot Fai or Train Market Ratchada and Train Market Srinikarin
So, I am kind of partial to the Train Markets in Bangkok. They are somewhat hipster with the newest one in Ratchada is probably even more contemporary or maybe trendy. However, they are just the ultimate Bangkok Market vibe in my opinion (other than JJ Green). The Srinakarin Train Market is harder to get to but once you are there you are in for the ultimate vintage shopping, music, and food experience.
The Ratchada Train Market is right off the MRT and is one of the newest Markets in Bangkok. It has tons of unique Bars made out of School Buses- Train Containers- VW Buses- and even a place to get a good haircut to be looking good! Right in the middle of all this Nightlife are many shopping vendors, food stalls, and all your basic Market items. If you visit Bangkok and do not make it to either of the Train Markets, then you are missing out in my opinion of the true Bangkok experience.
3. Ramkhamhaeng Night Market
Ramkhamhaeng Night Market is one of the more popular night markets for women because they can buy everything they need for their bodies. Here you can find cheap clothes, cosmetics, jewellery, cosmetics, shoes, hair products, etc. There are  also numerous barber shops and beauty salons within the market.
The Ramkhamhaeng Night market gets busier during late evenings. The local people at this market are some of the friendliest around and it is not out of the norm to hear some really unique live music being played by the locals. Its a little farther out but is well worth the effort getting there.
4. Saphan Phut and Flower Market
Saphan Phut Night Market is one of the Markets I tell visitors to check out on their visit to Bangkok. It usually is not going to be the one on the tourist trap ventures or one of the first Markets you will see on your trip.
It is off the beaten path and gives you the local experience in small doses. It is not trendy in any way but has its own unique, low key vibe. It is directly off the Memorial Bridge and is cool to walk hand in hand across the bridge and check out the beautiful river scene. There are many good deals here to buy items that you might not find any where else.
One of the other main reasons it makes the Top 6 in my opinion is you can check out the 24 hour Flower Market or Pak Klong Talad that is within walking distance to the Market. It is awesome to see the amount of Flowers that are shipped in and the work being done. A truly great experience for your visit to Bangkok.
 5. Khao San Night Market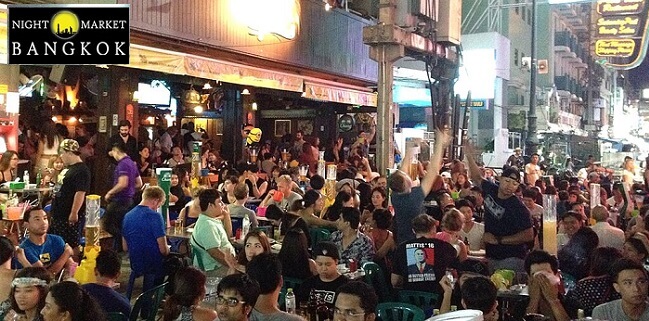 Khao San Night Market is one of the top 6 Bangkok night markets best known for first time visitors to Bangkok looking for cheap accommodation and hotels. The market is characterized by various restaurants, food stalls, shoe stores, massage parlors, ATM booths, pharmacies, bars, etc.
The common international cuisines available at Khao San Road market are: Thai, Italian, Chinese, Japanese, seafood, American and Korean. At night, the environment changes completely and sounds of music in bars and nightclubs take over. This is a common place for young tourists who like partying and having fun.
6. AsiaTique Night Market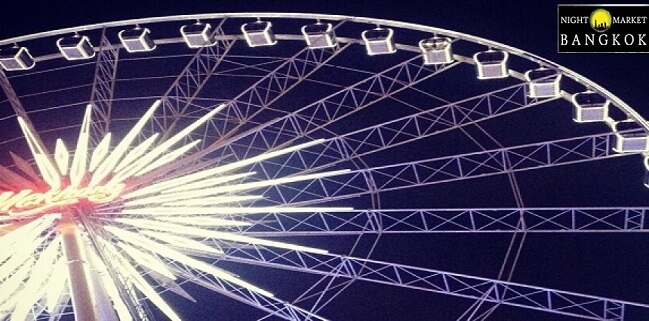 Asiatique is great if you are looking for a more contemporary and just overall clean nice Night Market by the River. There are plenty of shops and my favorite thing to do is grab some food and drink abd look out over the river for a chill, nice night.
The entire region of the Asiatique Night Market is divided into four districts namely Factory District, Waterfront District, Down Square District and Chareonkrung District. The Asia Tique Night Market is dominated by food stores, bars and retail shops that sell different types of top quality products. There is an amazing Ferris Wheel for the braver souls to get high up and look out over BKK.