Wang Lang market is well-known among Thai people especially to nurses and Thai university students who often visit this market to relish delicious dishes. The Market was named after reputed politician Wang Lang also named as Jingxing. He was a minor warlord during late Eastern Han Dynasty. After the fall of the Han Dynasty, he became a politician in the Cao Wei state. Wang Lang Market is located near Siriraj Hospital along Chao Phraya river.
At Wang Lang market, you can easily purchase brand name products such as Prada, Lacoste, shoes, bags, dresses and vintage products. You can also buy second hand clothes. If you are good at bargaining, you can buy many top quality products at an extremely cheap rate.
About Wang Lang Market
Wang Lang is popular as a food market and shopping by the river. You will find plenty of mouthwatering food dishes that include seafood, continental food, Chinese food, and multi-national cuisine dishes. At the market food stalls, you can relish the taste of Kanom Krok and Kanom buang maprow. Kanam Kroks are tiny cupcakes baked in a hot metal mold. Kanom buang maprow are crispy wafers filled with meringue and salty dried shrimps or sweet coconuts.
Kanom buang maprow are available in small sizes but their taste is great. You can also enjoy roasted pork, muu daeng yang, served at several places just to the left of the ferry pier. Tourists can order a plate of 'baame muu daeng heng' containing springy wheat noodles studded with chopped scallions and chunks of roast pork. Southern food is hard to find but many stalls along the south of Phran Nok road serve it. You can ask to try phad sataw muu tawt. It is made from delicious stink beans stir-fried with crispy fried pork belly.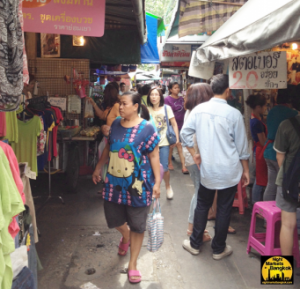 How do you get to Wang Lang Market?
In my opinion, the best way is to take the express boat service on the Chao Praya River which will allows you to get directly off at boat pier. Our Bangkok Market Map will show you directly how to get to the Market. Opening Hours of Wang Lang Market: Daily from 10:00 AM to 05:00 PM

Hotels near Wang Lang Market
I have never stayed in the Wang Lang Market area but it is definitely on my to do list. This Market is so relaxing and has some amazing deals with Jewelry, Clothes, and unique Thai gifts. Also, this Market has a reputation of some very delicious Thai Food. The very best thing about this Market is it is directly on the Chao Praya River. There are a number of Hotels in the area that are directly on the river and appear very romantic and accomodating. This is a place I like to go after the market closes and have dinner and a beer on the river at night. Check out our reviews on some Hotels on the Chao Praya River.

Nearby Tourist Destinations
Wat Rakang Temple- AKA -Bell Temple: This is a Buddhist temple located at 5 minutes walking distance from the Wang Lang Market. The temple is around 250 years old and is very cool. When you ring the bells, the angels up above will hear you and grant your wishes.
Pataravadi Theatre: The theatre organizes dance performances on the weekends. People dining at its associated restaurants can watch performances for free. The dance events are held from 7.30 PM to 9:00 PM on every Friday and Saturday. The theater is located along Chao Phraya river.
Baan Wanglang Riverside: This is a newly opened boutique hotel.
Major Cineplex Pinklao
Central Plaza Pinklao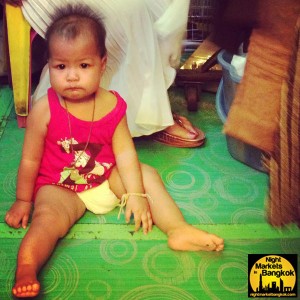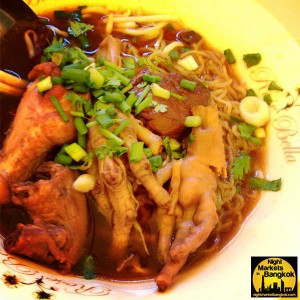 Popular Restaurants at Wang Lang
• Ruam Tai
• Supatra River House
• Yok Yor Marina and Restaurant
• Ibrik Resort by the River
Items for Page:
There are no posts that match the selection criteria.