I must first say that the Train Market in Ratchada is completely awesome. While it is very difficult to compare to the one in Srinakarin it kind of brings, in my opinion, a more contemporary flare to the Night Markets in Bangkok. The design and approach just reaffirms the creativeness and artful culture to these Markets in Bangkok. Time after time, Thais have shown to me their own style which comes from a unique blend of the history of the people that have visited Bangkok with including their own unique flavor from their own background. This in itself is why I love Bangkok and the Night Markets within this beautiful city of people living life to their own beat of a misshaped amazing sounding drum.
T
he Train Market Ratchada is a new Market in Bangkok and is a somewhat offshoot from the Train Market Srinakarin. This Market is just what Bangkok needs as it brings the awesome creativeness and flare of the older Train Market but is very conveniently located off the MRT at Thai Cultural Center behind the Espanade. The great part of this Market is that they have taken old Train freight or shipping containers and converted them into Bars, Shops, Restaurants, or both. The Market includes a great mix of food, vintage shopping, beauty products, haircuts, hats, t-shirts, toys, and many, many other items. There are a tons of bars made out of VW Buses. 2 story stacked Freight Containers, and original restaurants with some live music available.
Srinikarin Train Market Vs Ratchada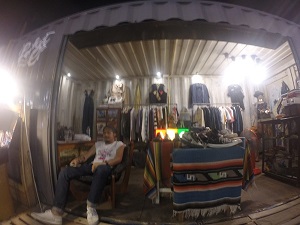 While not as big as Srinikarin, the Ratchada Train Market brings the heat like most markets in Bangkok and there are a ton of items to choose from. The Ratchada Train Market is mostly outside while Srinikarin has both outside and inside shops. While cruising through the Train Market in Srinikarin, there appears to be more options for music when compared to the Ratchada Train Market. As well as, I felt that Srinikarin has more of a local feel and caters to maybe more of a wider age group. Ratchada market has many 2 story bars to really have a great place for younger people to hang out and to me creates a more vibe for younger adults. In reiterating what I have said before, one of the main differences for me is that the Train Market Ratchada is directly off the MRT right next to where I live and play. This in itself is fantastic, as I live and travel almost always off the BTS, MRT, and Boat systems. While both have their own unique approach, they each still bring that awesome vibe from what the"Train Market Bangkok" has been able to create in Bangkok.
Street Ratchada Eatery
A new addition to this area is the Street Ratchada Eatery that is right down the street from the Ratchada Train Night Market. The Street is a great place to have in the area because it is open 24 hours and is a great place to chill at any time of the night. There is a Starbucks, Grocery Store, other coffee shops, stores, Pharmacy, many restaurants, and often some live music outside to chill and have a beer outside to the left of the building. It is a great addition to the area to have a place to go and study or hang out.
Directions to Train Market Ratchada
The Train Market at Ratchada is one of the greater additions to the Din Daeng area of Bangkok. Of course I might be biased because this is where I stay in Bangkok and I love the Train Markets. Both Train Markets are amazing but the Ratchada Market is great because it is directly accessible and close to the MRT. The Train Market in Srinikarin is great but very difficult to access. Especially during rush hour and busier times of the day. Come and visit our Market Map to find out how to easily find your way to both Train Markets in Bangkok.
When is Ratchada Train Market Open
The Ratchada Market is open from 5pm – 1am, Thursdays – Sundays. Since its in such a great location, this creates the best environment to hang out for a while and then head onto Huai Khwang and either eat or continue partying at the many Clubs and Bars in the area.
Hotels around Train Market Ratchada
This is a great area to stay in when visiting Bangkok. As Huai Khwang area is my go to place when I visit Bangkok. The Ratchada area is getting better and better. It is one stop closer to Central Bangkok on the MRT and has a small Mall (The Esplanade) where you can get any necessities without having to brave the crowds in town off the BTS. Take one stop either way on the MRT and you have the Huai Khwang area for great food, clubs, and shopping. Then head the other way on the MRT towards town and you have the Phra Ram 9 with great Tech Shopping and anything else you need. This area you will find some great Hotels with direct access to anything you need.
Items for Page:
There are no posts that match the selection criteria.