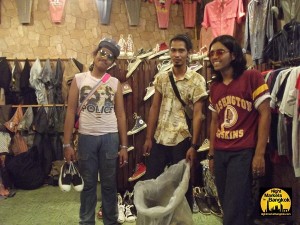 Shopping at Talad Rot Fai Market[/caption]Talad Rot Fai literally means 'Train Market' in English. This is a popular market in Bangkok and has been renovated and moved from its last location. The market in its retro style attracts hipsters, teenagers, and all types who love to hang out at cool, laid back places to shop, eat, and listen to awesome music.
The Train Market is recognized for antique products, vintage clothing, memorabilia, retro furniture, and all types of shopping. You can also find all other weird, different kind of products in this market. Talad rot fai is now present in a congested area of Thailand behind Seacon square and Srinikarin Road. There are many shop vendors and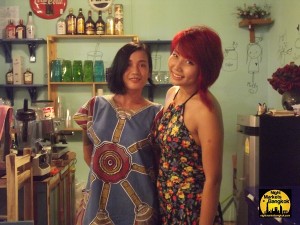 the new Talad Rot Fai is more spacious than ever. The Train Market is so big that you cannot even see the whole area in 1-2 nights. In Talad Rot Fai, you can also buy a second hand motor bike, scooter, old luggage, old sewing machines, old model cameras, games, old version of cartoons, native American relics, and books. If you are enthusiastic about retro model car or van, you can fulfill your dream in this market and see many shops that are selling straight out of old VW buses.
Food and Drink at Talad Rot Fai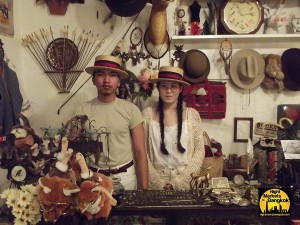 If you are feeling hungry while roaming around the market, you can visit a food stall,bar ,or restaurant to enjoy delicious Thai foods. On the market streets, you will find fried noodle stalls, barbecue stands with sizzling meats and ice cream parlous. You can stop at drink stands to enjoy ice-tea, coffee, cheap cocktails and other drinks. The market consists of many popular restaurants, cafes and bars that become alive during nights with tons of different music.
Opening Time
Thursday through Sunday for the resturants/pubs and tues through sunday for shopping
Opening Hours: Weekend Market- 5-12, There is shopping and many things going on but Friday and Saturday night are the best nights to go!
How to Reach Talad Rot Fai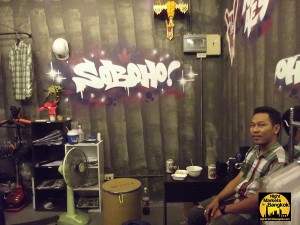 There is a big boat/ship at the entrance of Talad Rot Fai. It has moved to Srinagarindra Area behind Seacon square. You can either take taxi to the address provided but it can be very busy and congested in that area. Some taxis wont even go that way because of all the traffic. There are also other options to get to Talad Rot Fai, visit our Market Map to help you get there.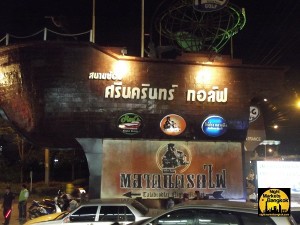 Bus/car May also get you to SEACON or Talad Rot Fai but a bus to SEACON or PARADISE may take 40 minutes or an hour if there is a traffic jam, which can drop you at SEACON or PARADISE. If you are at PARADISE you just walk back about 4-5 minutes to Soi Srinakarin 51, If you get dropped off at SEACON just walk to your Right(face the Department) to Soi Srinakarin 51, and Talad Rot fai is inside Srinakarin 51. To get precise and detailed information on how to get to all our Markets in Bangkok go to our map page.
Hotels near Talad Rot Fai
There are many nice Hotels in this area and is very convenient if you are wanting to spend sometime at the Talad Rot Fai Market. There is the Rider Resort, Dusit Princess Srinakarin Hotel, King Park Avenue Hotel and many many more. It might be good to stay in a hotel a couple of days in this area if you are wanting to check out a market because there is not a BTS or MRT real close by.
For all you music lovers in Bangkok:
The video above was at the Talad Rot Fai Market at the 3 bar. The band was called " Sor ra up". I think the singer was from the south of Thailand. Lots of fun and nice guys!
These videos above were a cover band at a bar called the river at talad rot fai market. They knew more english than thai songs. Cool place to hang out with old school theater seats. Definitely good music and fun
The videos above are from a great, little chilled bar/restaurant at the train market. The band was called "Plastic Meow". You should definitely drop by this cafe and chill. Talad rot Fai is an awesome market and this band/restaurant was awesome!
Items for Page:
There are no posts that match the selection criteria.