Siam Square is a shopping and entertainment region in Bangkok. The SIAM SQUARE shopping complex is owned by Chulalongkorn University and is managed by its Property Management Office, known as the Chula Property. Siam Square is located in Pathum Wan district and is bordered by Henri Dunant, Rama I and Phaya Thai roads.
Important Points of Siam Square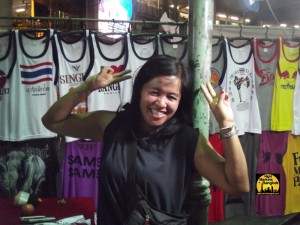 • Opposite across Rama I Road are Siam Paragon and Siam Center/Siam Discovery Center, which can be reached via the Bangkok Skytrain's Siam station, as well as a pedestrian bridge.
• MBK Center is across Phaya Thai Road, and can be reached from the Bonanza Mall, via a covered, air-conditioned pedestrian bridge. Parking in Siam Square is available at nominal charges.
• The nearest airport to Siam Square is Don Mueang International airport, Bangkok that is at 20 KMs distance.
• Boat Service: From Khao San Road, you can reach Siam Square using the Saen Saep Express Boat.
• Bus service is available
Neighborhood Shopping regions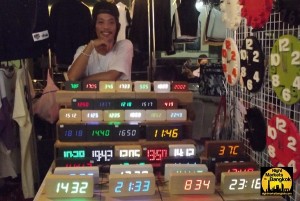 Siam Square is connected with other shopping complexes via Sky bridge.
• Siam Square: The marketing region is famous all over the world for top quality products at cheap prices. You can also enjoy watching movies and relax with beer drinks.
• Siam Discovery Center and Siam Center: Visitors can have fun at restaurants and movie theaters at the top floor.
Mah Boon Krong (MBK Center) : This is near to Siam Square almost where Sukhumvit road starts. Here you can purchase original brand clothing, mobile phones and other electronic items at low prices. There are some jewelry shops, a movie theater, bowling alley, restaurants and karaoke rooms.
Siam Paragon: A large number of shops selling electronics, sports equipment, clothes, household equipment, books, toys etc. There is a huge supermarket, called
Gourmet Market, at the ground level. You will also find a bowling alley, karaoke rooms, a concert hall and Siam Ocean World, one of the largest aquariums in Asia.
Central World Plaza: This is the largest shopping center in Thailand and South-East Asia with an amazing floor area extending over 500,000 square meters.
Panthip Plaza: One of the largest PC shopping complex in Thailand.
The Emporium: The Emporium is located on Sukhumvit Road, Soi 24, next to Benjasiri Park. There are many small boutiques offering Louis Vuitton handbag, Chanel dress, Rolex watch, Montblanc pen and other items. Visitors can purchase products at 20-50% discount.
Gaysorn Plaza: Located opposite to Central World Plaza.
Murals in Siam Square Market
Little Siam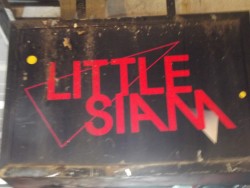 Little Siam is this tiny, narrow aisle off the main walkway in Siam Night Market. It is pretty sweet because you can barely see it and you have to be on the look out for this small sign:) Once you have taken either a right or left depending on where you are walking, you get to slither down this little shopping aisle. You will find some really good items, from jeans to shirts, dresses, and all types of unique things you most likely wont find on the main walking street. It is more of boutique items and very cool.
Hotels in Siam Square Market
Siam Square is one of the biggest shopping and central areas of Bangkok. Not only is there sensational Market Prices but many other shopping centers are located in this area. It is a great place to stay while on vacation in Bangkok
Best way to Get to Siam Square
Siam Square has a station that is directly on the railway System that can be accessed by the Silom line or Sukhumvit. If you are coming from the airport; then the best way to get to Siam Square is by the airport railway link system to phaya thai station. At this station then get on the Sukhumvit line which will take you right into Siam Square. If you are staying at other places in town. There are ways to get their by Express boat, Bus, or Taxi. The best way is to just make your way to the railway, and then follow the line to Siam Square. Make sure you are on the Sukhumvit/Silom line BTS, which can be verified by the map at the Railway station.
Nearby Tourist Attractions of Siam Square
• Ayutthaya by River Sun Cruise

• Damnoen Saduak Floating Market
• International Buffet Dinner
• River Kwai Tour includes boat trip
• Jim Thompson House (Museum)
• Calypso Ladyboy Show
• Kidzania (Siam Paragon)
• Bangkok City & Temples
• Siam Ocean World
• Siam Niramit Show
• Madame Tussauds Bangkok at Siam Discovery
• Pathum Wanaram Temple
• White Orchid River Cruise
• Others
Items for Page:
There are no posts that match the selection criteria.