Phahurat Market, known to many in Bangkok as little India, is located in Phra Nakhon district, Bangkok. In this region, people from the Hindu community, Sikh community, and Muslims from India and South Asia live but the Chinese society/culture is impeding fast due to the close proximity to Yaowarat Road. Phahurat Market is famous for Indian shops and Indian restaurants.
The main road connecting the market is also named Phahurat road and there is an interesting story on how this road came about in 1898. A fire started in 1898 and because of that fire a road was built, which was named "Bahurada". Which today is spelled as Phahurat (the way it is pronounced), by King Chulalongkorn in order to remember his daughter Princess Bahurada Manimaya. The princess sadly ended up having a short life and died at an early age. One of the most important landmarks of Phahurat Market is the " Shri Guru Singh Sabha, which is a Sikh temple with a golden dome and can be seen from far off in the distance in Bangkok.
What can you buy at Phahurat Market?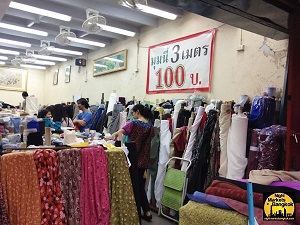 Pahurat market located near Chao Praya River consists of many Indian shops, stores and Indian businesses. Visitors can purchase all kinds of Indian items in these stores.
In this market, one can buy traditional Indian sarees, blouses, Salwar suit, Lehenga, Choli, Kashmiri costumes, Kurta, Pajama, pants, children clothes and embroidered dresses. You will get all styles of Indian dresses at very cheap prices.
Leather products: Many stalls in Phahurat Market offer handmade leather bags, shoes and sandals. They are available at cheap prices.
In Pahurat Market, you will find many valuable spices at cheap prices such as Ginger, Cardamom, Cinnamon and others. If you buy the same spices in US or European countries, they will cost you too much. Stalls offer loose spices in small polythene bags.
Dried Fruit and Nuts: You will find a large variety of dried fruits and nuts in many stalls. They are very delicious and available at very cheap price. It is a great idea to buy a few bags of dried fruits and nuts. This could be a great gift for your family members, relatives and friends.
In sweet shops, you can find all kinds of delicious Indian desserts such as Gulab, Kheer, Dharwad pedha, Ras malai and others. A large variety of Indian snacks is also available in these stores.
Hotels Around Phahurat Market
This is a really busy area of Bangkok with all of the shopping and business offices in the area. This makes this area a great place to find yourself for your stay in Bangkok. As well as this area is in close proximity to most of everything to do in Bangkok. In this area, you will find many different hotels to choose from.
Around Phahurat Market
The shops around Phahurat Indian Market do not do a lot of advertising, as they know people of Indian origin and with Indian taste will surely visit this market. In the surrounding region of Phahurat, you will find many reputed shopping malls that include Chinatown market, The Old Siam Plaza, Sampeng Market and Four Storey India Emporium.
How do you get to Phahurat Market?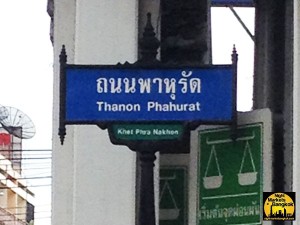 The easiest way to reach Little India is to board the BTS and get on the expressboat. One can also take a taxi or bus to reach Phahurat Road and then to Phahurat Market. Please go to our Market Map page to find out the easiest way for you to arrive to the Phahurat Market
Items for Page:
There are no posts that match the selection criteria.