Khlong Thom Market is popular in Bangkok for retro and unique items. During daytime, you can purchase clothes, electronic products, music and movie DVDs etc. At night, you can purchase old toys, retro prints, second hand items, mobile phone's spare parts, household items, and all the way to car parts. Bringing a flashlight with you will be helpful because it can be dark in many regions of the market. Hence it being called the "flashlight" market from he older locals in Bangkok.
If you never visited Khlong Thom Market, it would be very exciting for you to walk around the market. The market covers a large region and is known to be one of the oldest flea market Bangkok markets. This market always offers new and unique items to visitors. To see variety of products available in market, you can start from one end of a street and go ahead to the other end. There are many streets and a person may take several hours to take a complete tour of the market. If you are feeling hungry while doing shopping and roaming across the market, you can skip to sideways food stalls. In the neighboring streets, you will find many food stalls offering variety of delicious dishes that include local Thai food, Chinese, Italian and continental dishes.
What is available at 'Khlong Thom market?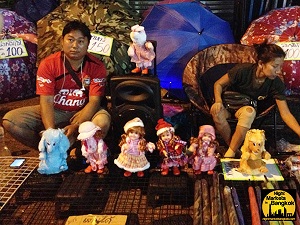 It is better to rephrase this question as 'what is not available in Khlong Thom market'. You can find almost everything you wish in this market. The stalls decorated in this Chinatown style offers every item you need in your daily life. Just to name a few items, we can include clothes, umbrellas, cheap writing papers, reading glasses, household pots, cooking ware, pans, toys, costume jewelry, household ornaments, underwear, socks, sunglasses, ties etc. Still thinking to have your own vehicle, you can buy old model automobiles in this market. You can also purchase used TV, radios,computers and other electronic items in this market. If you are fond of art items, you can purchase old paintings and photographs in this market. All items are available at very cheap prices. If you suspect offered prices are very high, do not feel shy to haggle over the prices. With proper bargaining, you can take away a large number of items to your home at very low price.
Background on the name 'Khlong Thom'
In Thai language, 'Khlong' means canal and 'Thom' means 'landfill'. Earlier there was a canal named 'Khlong Sampen'. In 1932, the people changed the canal into a landfill of garbage and later built a road over the region. Thus, the place got the name 'Khlong Thom' meaning "landfill canal."
How do you get to Khlong Thom Market
The Khlong Thom Market is located on Maha Chak Road, between Charoen Krung and Yawarat (ChinaTown) roads.
Visit our Market Map to get you to Khlong Thom Market easily.
Opening Hours of Khlong Thom Market
On Saturday: 5.00 PM – 01:00 AM in the night
Hotels Near Khlong Thom Market
There are many Hotels near the Khlng thom area in Bangkok. One visiting Bangkok, would find this area a great place to stay if they are into unique shopping. This area of Bangkok will allow you to be close to Chinatown Market, Phahurat, and Sampeng Markets for a great shopping in Bangkok experience.
Items for Page:
There are no posts that match the selection criteria.