Huai Khwang is one of the 50 districts of Bangkok, Thailand, located east of the city center and is famous for the Huai Khwang Night Market that starts at 07:00 PM and onwards throughout the night. In the market, you will find a large number of food stalls, restaurants, fruit vendors, vegetable sellers, meat, and fish vendors.
As you walk along Pracharat Bamphen road, you will find a number of restaurants and food stalls as well in Huai Khwang Night Market. The Huai Khwang area/district came from an area that used to be part of Phaya Thai. After changes were made to the district in 1978, which created changes from the former size with neighboring districts Phaya Thai and Bang Kapi, and again in 1993, which then created the new Din Daeng district.
The Din Daeng district is sub-divided into three sub-districts (Khwaeng)
Huai Khwang ห้วยขวาง
Bang Kapi บางกะปิ
Sam Sen Nok สามเสนนอก
Street Ratchada Eatery
A new addition to this area is the Street Ratchada Eatery that is right down the street from the Huai Khwang Night Market. This place is awesome because it is open 24 hrs and it houses a Starbucks and many other coffee shops, stores, restaurants, and a Grocery Store. A great addition to the area if you need some good coffee or air conditioning for a place to chill for a bit.
When is Huai Khwang open?
Huai Khwang Market is open 24 hours and you can buy any essential commodity you need. For example one can buy fresh fruits and vegetables, medicines, meats, seafood, or have dinner at anytime of the night. This is actually one of the reasons I love Huai Khwang Market. You can come at anytime of the night to get some great food and a beer. One of my favorite local spots is there in Huai Khwang. People come there from bars all around to grab some food after partying all night. Everyone is friendly and its a great time.
About Huai Khwang Market
At the corner of Ratchada road and Pracharat Bamphen road, and right before you walk into the Huai Khwang Market, there is an Elephant God shrine called Ganesh, where devotees offer their prayers. Right adjacent, just before/after the northern entrance of the MRT subway, is a bar called Park Terrace that serves local beer, mixed drinks, has pool tables ( Billiards/Snooker) and has live music.
Along Ratchada, there is a number of massage parlors which can provide you relief from all your mental stress. Huai Khwang is well known around the world for the Adult Spas and Massage parlors. The nearest railway station to Huai Khwang is Pecharthal railway station and the nearest airport to Huai Khwang is Don Mueang International airport, Bangkok.
Although if you are wanting to get to Suvarnabhumi Airport then you can take the MRT to the railway link. Which saves a ton of time because you dont have to worry about traffic. There is nothing more stressful than sitting in Bangkok traffic when you are trying to get to the airport for a flight. Always plan ahead for your flights in Bangkok amd try to always take Mass Transit in order to avoid the roads. There are also many 3 Star, 4 Star and 5 Star hotels located near Huai Khwang market.
How do you get to Huai Khwang Market?
Huai Khwang Night Market can be accessed directly off the railway and is the best way to get there. Get off of the MRT and take exit 4. Then go up the stairs and take a left towards Park Terrace Bar and the Shrine. Then at Pracharat Bamphen you take a right and you will need to walk a decent amount to get directly into the Market. It might be easy to take a motorbike or tuktuk if available. Find out the best way with pictures and mass transit map at our Bangkok Market Map Page.
Where to Stay in Huai Khwang Market
The Market area around Huai Khwang is one of the best places to stay in Bangkok. It is right next to the MRT and also down the street from the Esplanade Shopping center, The Street ( Big 24 Hr place center to eat and also has a Starbucks), Ratchada Train Market, and Big C.
By far one of the most popular places to stay around the Market is the Yim Hostel. This is not your typical hostel because it is very contemporary with private rooms and also dormitory style rooms. It has places to hang out inside and outside with great wifi all around the place.It is directly across from the MRT and close to many great places to eat. As far as location and proximity to everything it is by far one of the best places to stay in Bangkok.
Soi Pracha Songkhro
Soi Pracha Songkhro is located adjacent to Huay Khwang night market that consists of many local cloth stores and shoe stores. If you are interested in relishing the taste of street food, you can walk to the far end at Pracha SonghKhro road and near Soi Prem Sombat to find local food stalls and sidewalk restaurants.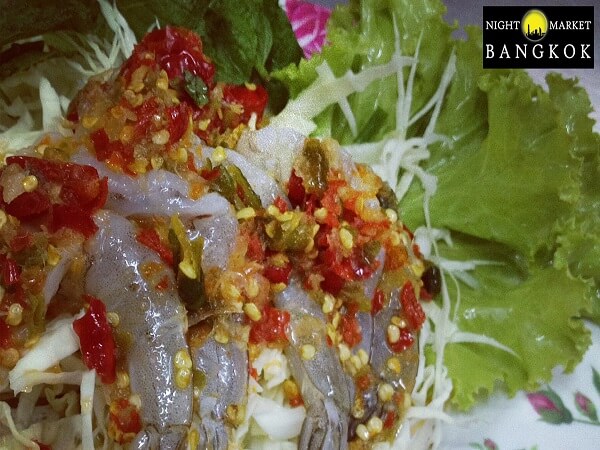 Royal City Avenue
Royal City Avenue is located in the Huai Khwang district and is approximately 1.5 km from Huai Khwang Night Market. RCA is one of Bangkok's largest entertainment and clubbing areas and its close proximity to the market make it an awesome place to go.
Huai Khwang Night Market is one of my favorite places to go eat and have a beer. Im not a big club goer but I appreciate all types of music and do experience this every once in awhile. Many of nights if you are at an eatery, you will see all the people pouring in from the clubs to get some fresh grub from late night til the early morning. Located on in Huai Khwang district, RCA is a long street located between Rama IX Road and Phetchaburi Road. Royal city avenue contains many different bars, nightclubs, and live music venues.
Royal city avenue is a government designated Entertainment Area, and is where you will find many young people. Some of the best Djs in Bangkok spin at these clubs in RCA. This is saying a lot, because the art/music scene is incredible in Bangkok.
Clubs/Bars around the area
• Route 66
• Flix
• Slim
• Hobb
• Ezze
• The Overtone Music Cave
• Nospace
• 808
• Inch
• JazzIt
• Baroque Club
• Love Boat Club
• Dude Nightclub
• T.D.C. club
Among the different places to dance/party; There also is the UMG RCA cinemas, which inhabits the House art film cinema, with also a go-kart racing track, bowling alley, many restaurants and a Tops supermarket.