Pak Khlong Talat is popular as the flower market in Bangkok. The market is a part of the old city, located on Chak Phet Road near Maha Rat Road and Saphan Phut. Chak Phet road is located near Memorial Bridge along the Chao Phraya River. Just before dawn, the market is very busy as boats and trucks arrive with flowers from nearby provinces. During the reign of Rama V (1868–1910), it had changed to a fish market. The fish market was eventually transformed to today's flower wholesale market, which has existed for more than 60 years.
About the Flower Market
Pak Khlong Talat is the biggest wholesale and retail fresh flower market in Bangkok. The market has all kinds of popular flower items that include roses, jasmine, forget me nuts, marigolds, orchids, lilies and many others. The flowers are sold in many ways which can be wholesale or a local street vendor can use them for small vending purposes to make phuang malai ( flower garlands ) and other fashion or household  items.  There is also the ability to buy fresh fruits and vegetables in this market. The flower market lies just south of Wat Pho (Temple of the Reclining Buddha) and has a path to river pier and very close to Saphan Phut Night Market. Therefore, this is a great one-day trip providing opportunity to view historical attractions of the Old City.
Tourists visiting this place with religious thoughts can find flowers woven into garlands. People can offer garlands to images of Buddha inside temples and shrines. Designing phuang malai garlands is an age-old Thai art. Here, you will also find ancestor spirit shrines, spirit trees and countless images of Hindu gods like Brahma and Indra.
In the surrounding region, you can find many reputed hotels and restaurants. There is a number of street food carts offering some outstanding Thai food.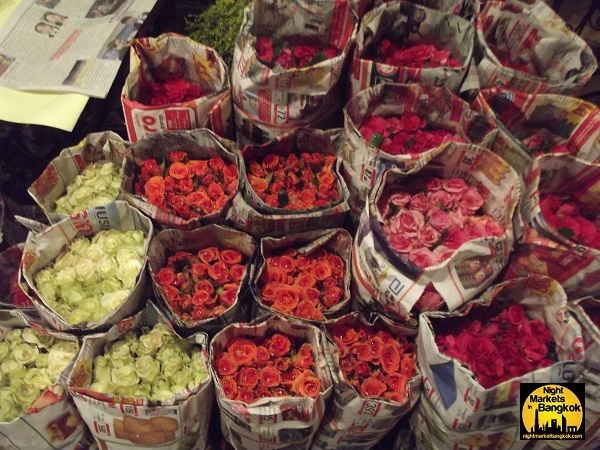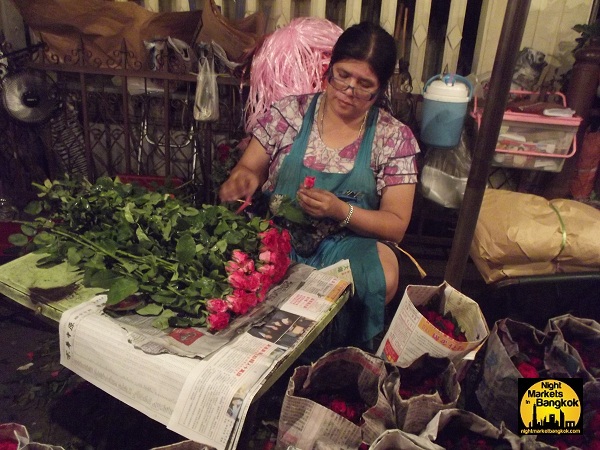 When is the Flower Market Bangkok open?
Opening Hours: Pak Khlong Talad is open 24 hours a day, 7 days a week, 365 days a year. So, you have no excuse not to go:)
How do you get to the Flower Market Bangkok?
The best way to reach the Flower Market is to take the railway to the Express-boat. Be careful because the Express-boat can get very congested during peak rush hour times.
 Hotels Near Flower Market in Bangkok
This is an exciting area to stay in Bangkok. Not only is it on the river but right next to the Saphan Phut Night Market. There are may relaxing places to stay by the river when you want to visit the Flower Market in Bangkok.
Come and check out our reviews on hotels close by the Pak Khlong Talad.
Some Tourist Attractions near the Flower Market:
• The Royal Grand Palace
• Khao San Road
• Temple of the Dawn
• Temple of the Emerald Buddha
• Banglamphu
• The Golden Stupa
• The Marble Temple
• Temple of the Golden Buddha
• Chitralada Palace
• Sanam Luang
• Museum of Siam
• Princess Mother Memorial Park
• Wat Kalayanamitr Varamahavihara
• Bangkok Correction Museum