Background of ChinaTown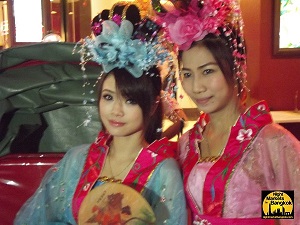 Samphanthawong also known as the ChinaTown area is one of the 50 districts (Khet) of Bangkok. This is the smallest district of Bangkok. In the streets of ChinaTown, you will discover how Chinese people have preserved their cultural traditions for centuries. In the China Town Market in Bangkok region mostly consists of people from Chinese community.
Originally, Chinese community settled in the present day, Ko Ratanakosin. In 1783, the Chinese community relocated to upriver along the Mae Nam Chao Phraya to today's Yaowarat district and thus China Town came into being.  Which is why some people might also label the Chinatown Market as the  Yawaorat MArket.
You can find a large number of gold shops and Chinese restaurants on both sides of the road. Chinese restaurants offer a large variety of food dishes that include rice, noodle, dim sum, bird's nest soup etc. Getting off the main road and moving into small lanes, you will find a large number of fruit sellers and medicine shops. Besides this, you can purchase a wide variety of items in ChinaTown market that includes hair accessories, tea sets, fabric, vegetables imported from Chinese mainland, hardware and electronic items.
How to Reach/Get to Chinatown Market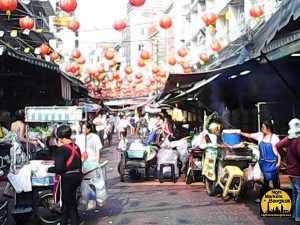 Chinatown Market is located in the Rattanakosin area of Bangkok and is located on 1.5 KMs long Yaowarat road. There are different ways of getting there but it is not directly accessible by mass transit systems.
Nearest Airport: Don Mueang International airport, Bangkok. 21 KMs away
Underground (MRT): Exit at Hualamphong station and walk or take taxi/tuk tuk
By boat (Chao Phraya River Express): Exit at Ratchawong Pier
Bus Numbers: 1, 7, 8, 37, 49, 75, etc.
For more Information check out our Bangkok Market Map
Hotels near Chinatown Market
Chinatown Market area is one of my favorite places to eat fresh street food. The close proximity to the Chao Praya River, Sampeng Market, Many great temples, and Saphan Phut area makes it one of my favorite places to stay while I am in BKK. There are many nice places to stay near the Chao Praya River and it makes a relaxing and central location to go to many other locations across Bangkok.
When is Chinatown Market open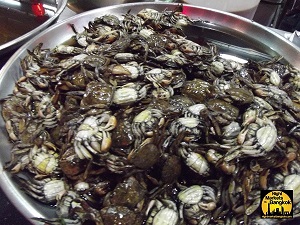 Opening Days: 7 days a week
Opening Hours: 09:00 to 18:00
Nearby Temples and Shrines
• Wat Traimit (Largest Golden Buddha)
• Wat Pathum Khongkha
• Wat Chakkrawat or Wat Sam Pluem
• Leng Buai Ia Shrine
• Ah Nia Geng Shrine or Chue Pui Nia Nia Shrine
• Guan Yu Shrine
• Thien Fah Foundation
• Bunyasamakhom Shrine
• Wat Mangkon Kamalawat Or Wat Leng Noei Yi
Shopping Centers Close to ChinaTown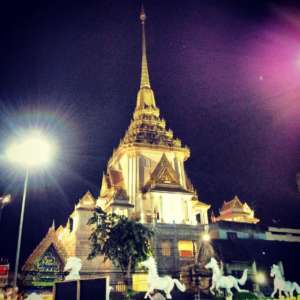 • Banana Plaza: Top brand shoes and sandals
• Hua Sen Heng: 50-Year-old shops offering high quality or pure gold ornaments
• Itsaraphap Lane: Nuts, herbs, spices, fruits, vegetables etc.
• Khlong Thom: Second hand goods and assorted knick-knacks
• Old Siam Plaza: Guns & Ammunition, Electronic items
• Pahurat (Little India): As you cross Chakraphek road, you will enter Pahurat, a great location to buy toys, textiles, flip-flops, herbs and household items.
• Sampeng Lane: A narrow lane running from Songsawat Road in the East to Chakraphet Road in the West, parallel to Charoen Krung (New Road).
• Saphan Lek Market: Electronics, Software, Pirated DVDs and CDs
• Siam Gold Gallery: Gems, Gold and Diamond jewelry
• Talat Kao: Seasonal fruits
• Tan Toh Kang: Jewelry
• The Thieves Market (Woeng Nakhon Kasem): Electronic devices and musical instruments
• Tong Bai Yaowarat (Gold): Jewelries
Harmonica Player in Chinatown