Written By: Ms Sarah Cieslar "TwistedButtercup"
Siam Gypsy Music Camp
twistedbuttercup@gmail.com
True to their nature, the Siam Gypsies have set up camp again. Now located at Ramkhamheng Road Soi 100 in Bangkok, the Caravan Gypsy Market is one of a kind. Two hedonistic vintage walking streets lined with small caravanesque trailer shops, restaurants and bars owned by Thai Bohemians, Rastafarians, Boy Scouts, Cowboys, Artists, Musicians, Actors, Actresses and other Thai characters of all kinds.
A village of its own, between and surrounding the vendors are sculptures, paintings, recycled and refurbished artwork / wares, teepees, antiques, vintage cars, vans, trucks, hotrods, motorbikes, bicycles, classic vehicles of all kinds really. As you walk towards the back of the market, you come to a large building with a sign that says… "Into the Wild" with a entrance that says "Gypsy". When you walk through the building, you come upon a large field where they hold concerts and well as a multitude of other events. In the field there is a stage and the whole area is adorned with lanterns and is a dedicated art and statue park.
The entire market is decorated with artwork and is an artistic palette unlike no other night market in South East Asia. With vendors that come from all over different parts of Thailand, each shop has a distinctive style of its own – certainly a Night Market in Bangkok with a flair for the unique.
City of Art & Music – Creators of Siam Gypsy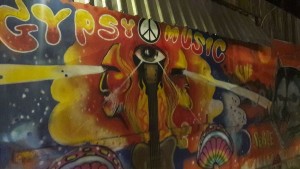 The market itself is a work of art, created by the imagination of the Siam Gypsy group. Caravan Gypsy Market is their most extraordinary night market to date. The Siam Gypsies, headed by their leader and chief, Seksak Sangsuwan, are a team of artists, hippies, family and friends that have travelled all over Thailand, sharing their artistic finesse for the hedonistic retro modern at a variety of events throughout the year, including Burapa (Pattaya) Bike Week, Isan Kieow – Green Party (พรรคเขียว) (Khon Khen), Retro Beach Party, (Nakorn Sri Thammarat), C.T.A. – Cowboy Thai American (various events throughout Thailand). They even hold their own annual event each year in partnership with Sheeva Wop / Sheeva Classic called, Siam Gypsy Camp, to be help in Khao Yai on December 29, 30, 31 2015. The inventiveness of the Siam Gypsy group was also the talent and vision behind the Ratchada Night Market, Siam Gypsy Market at JJ Green, next to Jatujak Market in Bangkok and Siam Gypsy Junction, Tao Poon, Bangkok.
Caravan Gypsy Market – Shopping Style
Caravan Gypsy Market vendors highlight a wide array of new, vintage, 2nd hand, handmade goods and antiques. The true appeal of this market is the laid back and yet professional service, the welcoming atmosphere which allows one to feel quite at home. You can find just about anything and everything here from men's, women's and children's clothing, jewelry, shoes and other accessories, leather and silverwork, vintage goods imported from abroad and Asia, furniture, housewares, artwork, tattoos, motorbikes, cars, bicycles, motorbikes and parts, etc. Finally, Bangkok hosts a classic style night Flea Market that is uniquely diverse with a chill and hip atmosphere that is likely to set the trend for upcoming Bangkok markets.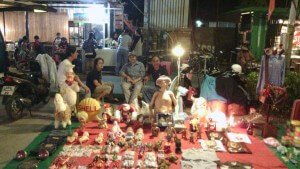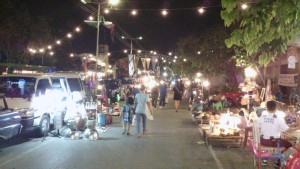 Food & Fun at Gypsy Market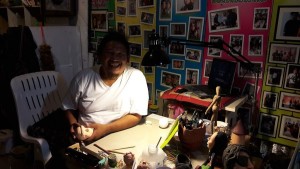 As in most Bangkok markets, there is a plethora of food available to match anyone's taste buds. Caravan Gypsy Market encompasses a variety of local, national and international cuisine. A variety of vendors from throughout the country allows a visitor to walk around and sample a variety of flavors from all over Thailand. From southern curries, to northern desserts, Isan (Eastern Thailand) snacks to Bangkok style noodle soup, BBQ and seafood, there is little you cannot find to eat at this unique night market. You can also find all kinds of delicious desserts and tempting baked goods, with a number of bakeries and cafes where you can sit, relax and soak up the atmosphere. There are also a number of bars where you can sip a cocktail or have a beer while you people watch and listen to the noteworthy music and impressive live performances that can be found scattered throughout this spectacular night market scene.
One of a Kind Live Acts and Music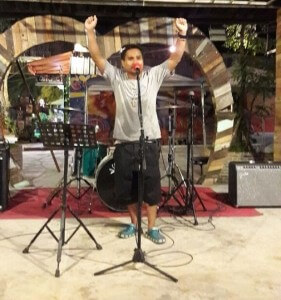 Caravan Gypsy Market boasts a live musical act daily at the small stage concert area in front of the waterfall near the front entrance to the market. The area is decorated with carriages, teepees, statues and other artwork. There is an area there to sit and enjoy the live shows while being able to munch away at the snacks and savor those drinks from the Caravan's night market stalls and shops.
Annually, the Siam Gypsies hold a series of events at their market locations and the Caravan Gypsy Market is no exception. Bringing together musicians, performance artists, bikers, cowboys, actors/actresses, athletes, etc – this market features, perhaps, the most eclectic mix of entertainment in Bangkok, perhaps even Thailand. Caravan Gypsy Market officially opened on October 22, 2015 and has already hosted a series of events including the Grand Opening Party, Sheeva Wop's RRCB – Rock and Roll Comeback, Tribal Music Festival, Muay Thai Demonstration and Fight Night, Gypsy Roots Reggae Concert with a number of events coming soon. These events are generally held at the "Into the Wild" area at the back of the market.
Check out their Facebooks:
Caravan Siam Gypsy and Gypsy Music Camp for more information.
Market Details and Directions:
Hours of Operation: Wednesdays to Sundays : 4pm to Late : Year Round
Location: Ramkhamheng Soi 100, Bangkok (near The Mall, Bang Kapi)
ถนน รามคำแหง ซอยรามคำแหง 100, กรุงเทพมหานคร (ใกล้เดอะมอลล์บางกะปิ)
BUS #: 8, 8 (Air), 40, 113, 143, 173, 514, 519, 585 in front of Moo Baan Roong Git
รถเมล์ #: 8, 8 (Air), 40, 113, 143, 173, 514, 519, 585 ในด้านหน้าของหมู่บ้านรุ่งกิจ
BOAT: Take the Canal Boat (Saen Seap Canal) to Wat Sriboonreung, take bus or taxi from there.
เรือ: นั่งเรือคลอง (คลองแสนแสบ) ลงที่ท่าเรือวัดศร๊บุญเรืองแล้วนั่งรถเมล์หรือรถแท็กซี่
Since the Gypsy Market Changes Locations so Often, They are not featured on our Market Map at the Moment.
If you happen to have any questions about getting to the Gypsy Caravan Market out in Bangkapi area, Please contact us here at Night Market Bangkok!