Khao San night market is located at Khao San Road, a small area located at north of Rattanakosin near Chao Phraya River. If you are a newcomer to Bangkok, this is the best place to find some cheapest accommodation and travel deals. There are a lot of young foreigners that come here midway through their backpacking journeys to party and find cheap rent. The history of Khao San Road actually goes back to 1892, when Bangkok became Thailand's capital. For two consecutive centuries it was basically a quiet street and actually Khao San road literally means milled rice.
Then In the 1980s, the travelers were in need of cheap places to stay while on their vacation and the Khao San Night Market started to develop to what is today. The Khao San night market is spread within span of a couple of blocks providing every basic commodity that you need.
About Khao San Road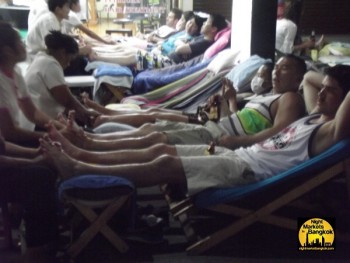 At late nights, Khao San Road turns into bars with sounds of music coming out and local people can be seen breakdancing on khao san road, selling roaches or scorpions, massages in the street, and partying everywhere . This zone is popular for its club culture and remembered for its late night parties, dancing, New Year celebration, water-splashing games that turn into a big water fight.
As a Thai writer describes, Khao San road is a short road to the longest dream. Some of the awesome things you will see at Khao san Road are travel agencies, internet cafes, boxing gems, cheap hostels, lots of souvenirs/clothes/art, pharmacies, currency conversion, and massage parlors. Pretty much everything you would need is all here at Khao San Night Market.:)
Some of my Favorite hang-outs @ Khao San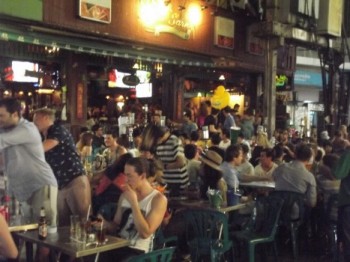 When I think of my late nights at Khao San Road; I immediately think about the Roof Bar at Khao San Road in Bangkok. It is the best place to people watch. I find that I am a professional "people watcher" and there is none better than a roof bar at Khao san Road. Being originally from Nashville, TN, I just cant get away from my love of good acoustic music. This is one of the bars in Bangkok that I have found to have one of the better scenes of good ole "beer drinking" music. Just get you a stool , grab a Chang and sit back to watch the excitement down below. Its like watching an movie unfold and it is not surprising to see some of the craziest things happen!
Another place to really chill out is the Sawasdee House at Khao San Road, this place is just a great place to be and have as your home base in Khao San Road. Its just a couple of steps away from Khao San Road and is a great place to start your night, and end your night. With tons of tables in the road to chill and people watch while eating some awesome food and drinks. They have a chocolate cake there , called the chocolate "lava" waffle cake that oozes out chocolate when you cut into it. It is an flavor explosion of fun! Just a great place to chill and sleep as well. It isnt as loud as the other areas of Khao San. It also has a good combo of locals, tourists, and some backpackers. Good crowd here.
How do you get to Khao San?
There is no railway station near to Khao San Road. Tourists can use different transport services to reach Khao San road. You can find out how to get to Khao San Market by going to our Bangkok Market Map.
Hotels Around Khaosan Road in Bangkok
This is a favorite place to stay for many travelers that come to Bangkok. In this area you will find many Hotels from budget-friendly to 3-4 star Hotels. This area of BKK is a favorite location for people that want to have a good time and party through-out the night. There are also many other Markets that are not too far away from this area.
Restaurants Near Khao San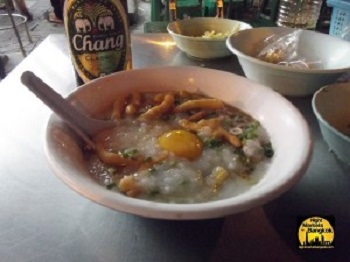 There are many popular restaurants nearby Khao San road such as Hemlock, Chote Chitr, Seven spoons bar and restaurant, Supatra river house, Royal India, Brown Sugar, Steve Café, and many others. In these restaurants, you can select a food dish from a large range of multi-national cuisine dishes available that include Korean, Japanese, American, Italian, Thai, Chinese, Seafood etc.


Nearby Attractions to Khao San Market
• Democracy Monument
• October 14 Memorial
• Phra Sumen Fort
• Santichaiprakarn Park
• Sunset Street Art Gallery
• Wat Bowonniwet
• Wat Chana Songkhram
• Wat Phra Kaew
• The Grand Palace
• Phra Sumen Fort
• National Gallery
• Wat Mahathat
• Wat Pho
• Wat Saket in Bangkok