This post is also available in: Thai
"Happyland" has an interesting and somewhat folklore to maybe factual history that is quite ironic to its name. Its name originated from an amusement park that was built around 1975, with it supposedly later becoming "magic Land". (If this is not correct then I hope someone can send a message to correct.) It started out as an escape for the lower income children having an fun time with not having to invest too much baht.
The park consisted of boat rides, ferris wheeel, roller coaster, and a haunted house. According to tales, the smiles and happiness that were once a given of the regular kid on the street having a blast soon turned into disappearances, deaths, and many accidents on the worn equipment that was not new anymore. As the bodies started to pile up with no apparent cause; in some instances it was starting to become and talked about from the ghosts of the children dying from before. Simply to keep them company and have someone to play with in their lonely spirit existence.
In 1979, after no longer being able to conceal the stories spreading around of the deaths of the visiting children. The park finally closed down and is now a fresh market with from what locals say spirits of the forgotten children can still be heard.
Get Our Free 21 Bangkok Market Map
21 pages of directions , insight, and google map links to each market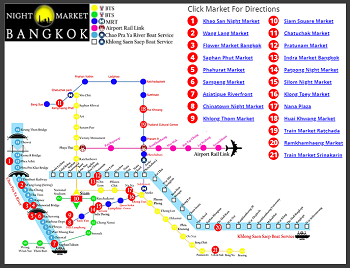 If you are not redirected, the link to the map will be sent to your Email Address
Nowadays, the only remembrance of Happyland is the Soi 1 and Soi 2 named "Happyland" that connects Lat Prao to Nawamin Road with the occasional shop taking over the once forgotten name of the local Amusement Park.
Adapted from
My experience of Happyland is quite different of its apparent documentation in history of Bangkok. As I write this piece, I try not to think about the fact that I do not like giving out my secrets of low key places with down to earth people.:) because HappyLand is just an amazing secret gem that I plan to always visit whenever I am in Bangkok.
Happyland, really has tons to offer to the traveler. It is definitely off the beaten path which allows for some really great deals for shopping, cheap massages, cheap food/beer with I must say great quality service. I am a big fan of good customer service and in Central Bangkok you will be paying for over priced beers from people that just shove them to you. Hard to find nice people with a genuine smile filling up your beer and adding ice with actually no really motivation for a tip.
Shopping in Happyland, Bangkok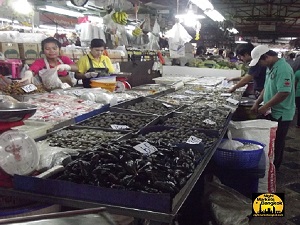 Shopping in Happyland is great much like every part of Bangkok. It has a decent mall called Mall Bangkapi, where you can find all your transparent mall accessories if thats what your into, but one of the best hidden gems of Happyland, is the Happyland Center across from the Mall. This is where you are going to find some awesome items. I hate telling people this but it is one of my go to places for cool, original stuff. However, I think all around BKK this can probably be said. Also, if you are into preparing food in the area or buying a cheap dinner, there is a great fresh market  (Bang Kapi Market ) down Lat Prao a little bit on the left and a small market (Happyland Market) to find food/shopping right in front of the Happyland Center.   One of my most favorite Night Markets in Bangkok is Ramkhamhaeng Night Market.  This market is easily accessible by express boat from the Mall Bangkapi pier.
Food in Happyland
I have a couple of spots that I usually go to in Happyland.  One of my favorites that I got to is a simple, local street eatery called "Nooms".  This place just has great thai food but takes it to the next level with nice girls, great customer service, and just has that great street food vibe where you can unwind with your favorite beer on ice. Noom is a local guy with a great attitude for creating the right atmosphere for just a chill, simple experience.  If you are lucky, you might get to stick around for some karaoke and beers to unwind with some of the frequenting locals to take in some "Sabai" "Sabai".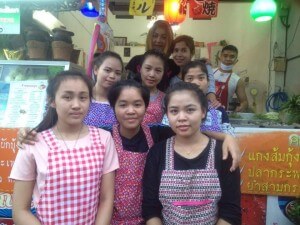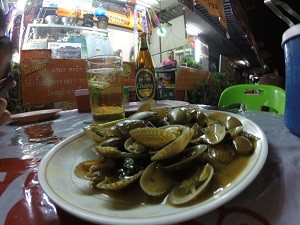 Above ~ NOOMS Restaurant in HappyLand, Bangkapi
Another favorite place to go eat and chill out is in the
Tawanna Bazaar
area and is called Lann Lao with owner
Mam
. This place is in a small road on the right side of Tawanna Market before you get to the big club "Container". This chill street eatery is just my kind of place. If you like a kind of small crowd, good food, beers, and live Thai music this is where you should go in Happyland. There are other places in Happyland to watch live THai music that are really cool but this place is more of a small, family atmosphere. If you are lucky and like to sing; you might be able to get up on the small stage to sing a little bit.
Above ~ Aun Playing Music at Lann Lao , Tawanna Square in HappyLand, Bangkapi
Places to stay in HappyLand, Bang kapi
There are many places to stay in Bang Kapi, Bangkok. There are Service Apartments, Hotels, and long term stay options all around the area. Mall Bang Kapi and Happyland Soi 1 and 2 are very popular places to stay in this area because of the boat access into town. As well as the only popular Mall in the area and close access to the popular Ramkhamhaeng Market.  If you want a chill, local experience out of the hustle and bustle of Bangkok come out to Happyland and chill for a bit.  Its great to get away from the fast lifestyle but still able to cruise into town on the boat when you need too.
Music in Happyland, Bang Kapi
Music and Food are what makes me happy in life:) If you have the opportunity to come out this way. Take the time to chill out and listen to some of the local Thai music around the area. I know you will be happy that you did.
นายแพร บ้านเพลงพยัต- Mr Pratt house at Krua pa pissawong in Bang Kapi, which means in english; Wonder Kitchen, This restaurant is off Happyland Soi 2 in Bang kapi.
.
This was a band over by Tawanna Square area by Mall Bang Kapi in the back by the club "Container". Everyone was having a blast and dancing. Great Music and good times.. The band is from south of Thailand. Sorry about the quality was using a phone:)
There is a string of restaurants past Happyland market on Happyland Soi 2 and this is the second one called Krua Pa Pissawong , which means in english Wonder Kitchen. The singer is Kang and he plays at this restaurant a couple of days during the week and on the weekend.
This is a great Bar and Restaurant on Happyland Soi 2, Bang Kapi Bangkok with great Thai Music. The restaurant is mostly outside and is the first one on the left right after Happyland Market on Happyland Soi 2.  Notice the guy at the end of the song, he is loving the song and having a great time!! He was a nice guy.
Live music and Pretty thai song at a Bar on Lat Prao rd Soi 122, in Happyland , Bangkapi Bangkok.
Comments
comments